Residential Air Conditioning Services Near Berlin, NJ
When it comes to keeping your home cool in the Berlin, NJ, area, you need an expert air conditioning contractor to get the job done. Energy Systems Service has over 20 years of industry experience and the tools to provide only NJ residents with the best residential HVAC service.
Whether you're adding to your home with a brand new cooling system, looking to upgrade, or dealing with a malfunctioning unit, we have you covered. We'll also help you make the most of your system with preventative AC maintenance to avoid major breakdowns and repairs. For affordable cooling comfort near you, give our team a call at 856-767-7114 !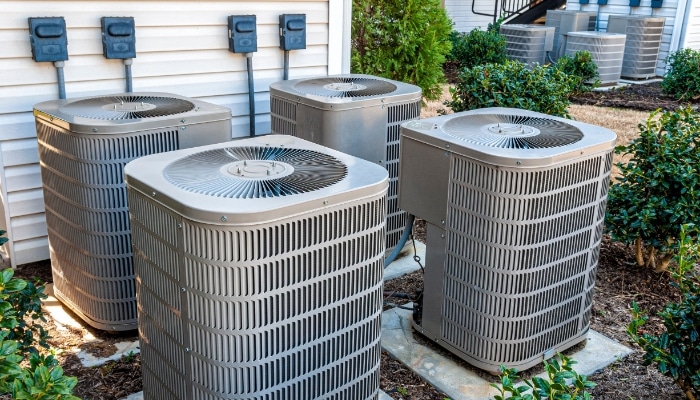 Air Conditioning Installation & Replacement
Has your AC reached the end of its lifespan? Though proper maintenance helps your system last longer, eventually it will need to be replaced. On average, air conditioners last 10-15 years. At the 10-year mark, keeping an eye on your system and considering the benefits of air conditioning replacement rather than repair is essential.
When it's time for an upgrade, our team will be here for you from start to finish. We'll keep you informed and consider the most critical factors in choosing a new system, like size requirements, cooling demands, and your budget. We have access to and install only the highest-quality systems so you can rest assured you're getting the right solution at the right price. Once we've found the perfect fit for your AC replacement, we'll remove the old unit and get the new unit installed in no time.
Air Conditioning Repair
Is your AC making strange noises or giving off unpleasant smells while it runs? It may be time for air conditioning repair! If the issue isn't resolved with a quick thermostat calibration or breaker reset, you should call a professional for your safety and to avoid further damage. We're proud to offer 24/7 on-call services for major emergencies so you have a helping hand day and night.
Signs your AC may need repair include: 
Unusual spikes in energy costs without an increase in usage.
Rattling or banging noises while the unit runs.
Inconsistent temperatures across rooms.
Weak airflow from the vents or no airflow at all.
Warm air from the vents.
For local ac repairs in Cherry Hill, NJ, and beyond, Energy Systems Service is here to help! We know how important it is to restore your home comfort as quickly as possible. Our team will arrive promptly to troubleshoot the issue and determine the safest, most effective repair plan. We'll never recommend unnecessary services or pressure you into a replacement if your unit is a good candidate for repair.
Air Conditioning Maintenance
Like all HVAC systems, routine AC maintenance is key to extending your system's lifespan and preventing expensive repairs. When small problems are taken care of early on, major breakdowns don't have to be inevitable. Scheduling your AC tune-up with Energy Systems Service gives you the peace of mind you deserve that your AC has a professional stamp of approval for the summer.
During your AC maintenance service, your technician will inspect the unit for signs of wear and tear. Moving parts will be lubricated to reduce friction and preserve the components. Refrigerant levels will also be checked and topped off as needed to ensure you have cool air everywhere you need it. Scheduling your service in the early spring is the best way to prevent losing comfort in the summer when you need it most.
Here to Keep You Cool
No matter the project or problem, Energy Systems Service is ready to help! Our technicians are licensed to tackle any job, big or small. We're proud to serve the areas that we call home and can't wait to help you make the most of your home's air conditioning for the indoor comfort you deserve. Give us a call today at 856-767-7114 for local AC service from the pros!
How much does AC repair cost in Berlin, NJ?
The expense of AC repair can differ significantly, influenced by elements like the problem's complexity, the required repair extent, the AC system type, and local labor rates. Minor repairs typically cost approximately $100 to $500, whereas more intricate issues might fall within the range of $500 to $1,500 or beyond. The final cost can be significantly affected by the replacement parts' expense and the repair's intricacy. To gain a clearer insight into the precise costs related to your AC repair requirements, it's advisable to obtain multiple estimates from respected HVAC experts.